Brooklyn Dental Implants Specialist | Dr. Leonard Umanoff
Dr. Leonard Umanoff is a top rated, best in class dental implants specialist in Sheepshead Bay, Brooklyn NY. He is an experienced and highly trained implants dentist specialist offering the most advanced implants techniques and procedures.
Dr. Leonard Umanoff is passionate about dental implant dentistry and in ensuring his patients receive the very best dental implants appropriate for their needs and desires.
Visit Brooklyn Dental Implants Center for an honest and considered opinion about your dental health. Dr. Umanoff will only suggest dental implants if he truly believes this will provide optimal results.
Free dental implants consultation in our Sheepshead Bay, Brooklyn NY office with the best rated dental implant specialist Dr. Leonard Umanoff at LuxDen Dental Implants Center:
☎ 1-718-382-3444
Education
Dr. Umanoff graduated from Moscow State University of Medicine and Dentistry in 1995 and attended NYU College of Dentistry in 1999. He is eminently well-qualified implant specialist with degrees from two countries.
Since graduating, Dr. Umanoff has spent the past twenty years expanding his knowledge in dental implants and regularly attends continuing education courses, most often in implantology.
Dr. Umanoff is also on the North East Regional Board of Dental Examiners.
Extensive Training in Dental Implants
Dr. Umanoff has been a member of the International Congress of Oral Implantologists (ICOL) since 2009. The ICOL provides an extensive education in dental implantology to its members and is renowned worldwide.
Dr. Umanoff has received advanced training at the renowned Pikos Implant Institute in Florida and which specializes in 3-D based surgical implant courses, covering computer guided dental implant surgery and advanced bone and gum grafting techniques. He is also a member of the prestigious American Academy of Implant Prosthodontics (AAIP). Many implant organizations worldwide are affiliated with the AAIP.
When you visit Dr. Leonard Umanoff, you will receive a considered, honest opinion about your treatment options. Dr. Umanoff's specialized knowledge allows him to make an in-depth review as to your suitability for dental implants, and he will only suggest implant solutions if he is confident this will provide optimal results.
I had a wonderful experience in LuxDen! Doctor Umanoff is a very attentive and knowledgeable professional who cares about his patients and offers a wide range of services. I had a tooth extraction and it was surprisingly easy and painless. Staff is very friendly and provides you with all the info and advice you need. No hidden fees, Simon explains everything ahead in easy manner and I know what to expect. I'll definitely recommend LuxDen to my family and friends.

Google Review
Yuliya Kelmanska
Advanced Dental Implant Solutions
Dr. Umanoff's extensive experience and training allow him to use a wide range of dental implant systems, including mini and zirconia dental implants.  Patients benefit from receiving the best implant system for their needs.
In comparison, implant dentists with less experience and training are frequently only able to use one or two different dental implant systems and will try to adapt these systems to fit their patient's needs rather than choosing a more appropriate and effective implant system.
Experience and skill are extremely important in planning and placing dental implants. They must be situated correctly to ensure excellent functionality and appearance, which isn't always straightforward. Implant dentists with less skill or who do not use appropriate technology may place a dental implant inappropriately, achieving a less desirable result for the patient.
Immediately Loaded Dental Implants: Traditional dental implant treatment can take three to six months, or even longer to complete. Nowadays, we can often insert and restore your dental implants on the same day, so they are 'immediately loaded' with your new teeth. The technique is effective and reliable and provides just as good a treatment outcome as lengthier implant treatments. Read more about Immediate Load Dental Implants in Brooklyn.
Material for Dental Implants : We only use the highest quality, medical-grade titanium, or zirconia dental implants manufactured by reputable implant companies. These companies have developed and clinically tested these implant components, so you are assured of receiving an excellent and long-lasting treatment outcome.
Advanced Technology: Microscope-assisted precision implants dentistry used to enhance a dental implant specialist vision to unprecedented levels. It's used for polishing and finishing teeth margins and for contouring teeth and teeth implants.
Latest Diagnostic Methods for Dental Implants
The most effective dental implant treatments require extensive planning behind the scenes, and which is completed using the most advanced technologies.
3-D imaging system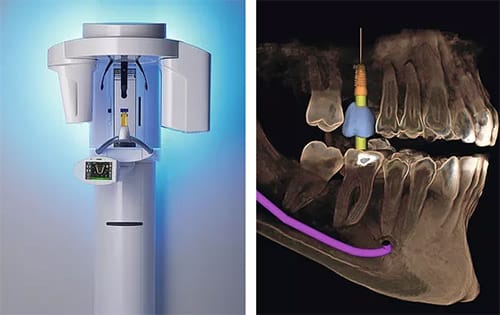 Our dental office has a 3-D imaging system so we can take a detailed 3-D scan of your jaws. The scan provides essential information when planning and placing your implants, eliminating room for error during surgery.
Visually reconstruct your full mouth in panoramic 2D & 360 3D x-rays:
Allows as to virtually plan treatment which leads to effective and predictive results
Works in conjunction with our 3D printer to create surgical guides and models
Planning Software
From dental scanning and planning, to drilling and implant placement, the software offers us a comprehensive 3D system for accurate and predictable implant treatment. Blue Sky Plan is an advanced treatment planning software for computer guided surgery. Dr. Umanoff uses this software to 3D print surgical guides and models to replicate virtual plans.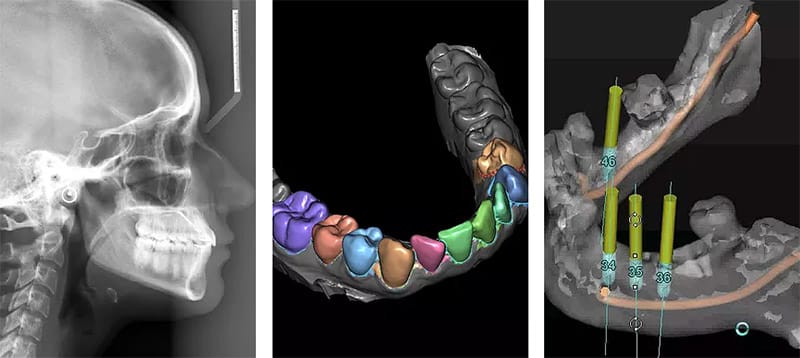 Single visit crowns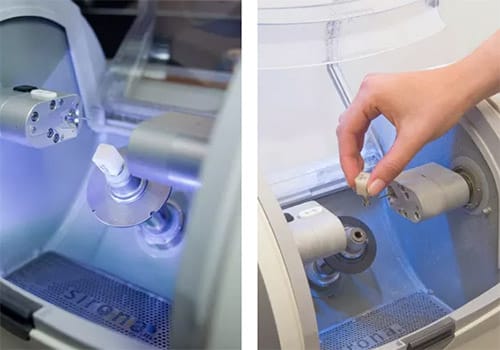 Perfect for emergency visits and same day restoration, your crown can be measured, planned, milled from a block of appropriate material and fitted the very same day.
Now you don't have to wait weeks between appointments and have your implant crown created, broken or damaged crown replaced within hours.
Dr. Umanoff has been using CEREC for almost a decade and is recognized as a Master CEREC technician.
Biolase Dental Laser
Our dental office is equipped with the latest Biolase Dental Laser, an extremely sophisticated technology that combines laser energy with a gentle and soothing spray of water. Laser dentistry is faster and very accurate, so any incisions are smaller. The energy of the laser immediately seals the edges of the incision, so discomfort and bleeding are greatly reduced.
It is an approach that ensures your implant treatment is faster and minimally invasive, so healing is quicker and smoother than ever before.
Why You Need to See a Brooklyn Dental Implants Specialist and Not a General Dentist for an Advanced Implant Treatments?
If you are facing tooth loss, your general dentist will urge you to think about replacing them as quickly as possible. This is good advice, as losing teeth is detrimental to your appearance, and many people feel embarrassed to smile or talk in public, but tooth loss affects your oral health in other ways too.
When you lose teeth, remaining natural teeth drift toward the gap, destabilizing them and negatively affecting your bite. It is highly likely your general dentist can offer your dental implants, and you already know and trust them to take care of you, but there are several reasons why it is preferable to see a Brooklyn dental implants specialist for such an advanced treatment, and who will have success rates of 95% or higher.
While general dentists may be confident placing single dental implants, things can and do go wrong occasionally. When this happens, a dental implants specialist can more effectively correct any problems or most likely will prevent them from occurring initially. They are unlikely to have the skills required to plan and place more advanced and complicated treatments.
Why Brooklyn Experience and Training Matters?
Planning and placing dental implants is a complex process requiring advanced training and extensive skill and experience. A dental implants specialist will have completed a substantial amount of advanced training over several years and is continually updating their skills, knowledge, and dental office equipment. They will routinely place dental implants every day and carry out multiple complex implant surgeries, including full mouth restorations.
In comparison:
General or family dentist might have completed just a weekend course or another short course in dental implantology. While this might provide them with a good overview, they lack the knowledge and skills needed to cope with treatments that aren't routine. General dentists may not place dental implants regularly enough to invest in specialized dental office technologies like 3-D image scanners or dental lasers.
Dental implants specialist have a plan for your treatment down to the very last millimeter. By the time you sit in the dental chair for implant surgery, Dr. Umanoff will already know precisely where each implant is to be situated and angulated, and the treatment plan is replicated exactly using computer guided surgery, avoiding all essential structures in your jawbone. Nothing is left to chance, and in-house dental lab technologies will create your temporary or permanent, precision-made replacement teeth.
This is especially important for anyone who requires more complex treatment, for example where multiple dental implants are required.
Receive More Advanced Treatments
While a general dentist can frequently supply and fit straightforward dental implants, they are usually unable to offer more advanced oral surgery such as bone grafting and gum tissue regeneration. If you require more complicated dental implant treatment or have some oral health problems, a dental implants specialist is much better equipped to help you.
A dental implants specialist can supply all the treatments needed in one comfortably location, and they have training and experience in using a far greater range of dental implant systems.
General dentists often don't offer advanced implants techniques such as:
All-on-Four
All-on-Six
Teeth in a day
Dentures in a day
Complex dental implants procedure do require more extensive skills and training. If you visit your general dentist, they might suggest more traditional treatments that potentially take longer to complete and which require more dental implants, simply because they feel most comfortable using this approach.
Personalized Dental Care
Dr. Leonard Umanoff is renowned for being a caring implant dentist. He will always take the time to listen carefully to you and to understand your aims and concerns about dental implant treatment. Moreover, he treats the entire person, considering your well-being when planning your implant placement and restoration. Each process is carefully customized to accommodate your oral health needs, helping to ensure your implant treatment is a complete success.
Do you have questions about dental implants in Brooklyn NY? If you like to schedule an appointment with the top dental implant specialist in Brooklyn, Dr. Leonard Umanoff, please contact LuxDen dental implants center office.