Mini Dental Implants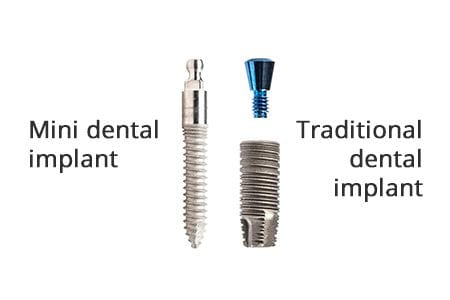 Mini dental implants are a slightly different type of implant, as the actual implant is narrower and uses a screw instead of a post. Originally introduced during the 1980s, the FDA accepted mini dental implants as a suitable long-term implant solution in 1999.
The diameter of mini dental implants can range from as little as 1.8 mm, up to 2.9 mm. The implant screws range from 10 mm to 18 mm in length, and the length of the screw determines the strength of the implant rather than its diameter.
The design is different, too, as mini dental implants are often fabricated as a one-piece unit that integrates the abutment that protrudes above the gumline, instead of as a conventional two-piece dental implant where the post and the abutment are separate. The procedure to insert mini dental implants is slightly different as they are placed directly through the gum tissue, eliminating the need for stitches.
At our dental implant practice in Brooklyn use mini dental implants in specific situations and where traditional-sized dental implants aren't suitable. Typically, they are used to replace small lower incisors or other teeth where there isn't room for a traditional larger width implant. Mini dental implants are exceptionally useful for securing loose dentures and especially when a person has significant jawbone deterioration and who is unsuitable or who do not wish to have bone graft surgery to build up their jawbone.
Why Choose Mini Dental Implants?
Mini dental implants are ideal for anyone missing a lower front tooth or another tooth where the space is too narrow to fit a conventional dental implant without negatively affecting the adjacent teeth and avoiding essential structures like nerves and blood vessels. If your mini dental implant is being used to restore a small front tooth, you will be provided with a temporary tooth and eventually an implant crown once the front tooth implant has fully healed
Because mini dental implants are smaller than standard implants, the price is more competitive, and they can be a cost-effective solution for anyone wishing to retain their dentures more firmly.
The surgical procedure to place mini implants is less invasive because the implants are inserted directly through the gums, avoiding the need to make an incision in the gum for each dental implant. Dr. Umanoff, Brooklyn dental implants dentist is using this less invasive treatment to appeal to anyone who is slightly nervous about having dental implants or who would be less suitable for conventional implant surgery.
Who Is Suitable for Mini Dental Implants?
Mini dental implants could help people currently struggling with loose and uncomfortable dentures, and implant treatment isn't affected by age or gender once the jaws have finished growing and developing. Everyone considering implant treatment at LuxDen Dental Center will need an in-depth consultation with the best implant dentist in Brooklyn Dr. Leonard Umanoff to discuss their dental health and general health, and their aims for implant treatment.
We must make sure mini dental implants are the most suitable treatment for you and will provide the outcome you desire.
Mini dental implants are an excellent solution for securing a loose denture, but it's important to realize that although your dentures will be held firmly in place, you will still have a removable prosthesis.
Dr. Umanoff can talk to you about the treatment more fully and can answer any questions you may have. You will need diagnostic tests before we can provide an accurate estimate as to may dental implant costs, but we can give you a rough guide during this meeting. If you decide you wish to proceed, the next stage is to have diagnostic tests.
Diagnostic Tests
We use computer-guided surgery to place every dental implant, and a cone beam CT scan is essential for planning your surgery. It provides detailed 3-D images of your jaws, including vital information about the location of nerves, blood vessels and sinus cavities, and the quality and quantity of bone available for implants. Although mini dental implants need to be surrounded by less bone, the actual vertical height of your jawbone is an important factor.
Planning Mini Dental Implant Treatment
Once Dr. Umanoff assesses the information provided by your diagnostic tests, he can plan exactly where each mini implant is best situated, making maximum use of available bone while providing good stability for your denture or implant tooth. He will also decide how many mini dental implants are needed for denture stabilization. Computerized software is used to manipulate the images provided by your CT scan to ensure excellent stability, functionality, and appearance. A surgical stent is made using the computerized plan, and we use this during computer guided surgery.
Placing Mini Dental Implants
Because the procedure to place mini dental implants is slightly different compared with traditional dental implants, they are often completed under local anesthetic. The entire procedure may only take a couple of hours. The mini implants are inserted directly through the gums and into the jawbone, eliminating the need for incisions in the gums to expose the underlying bone.
The treatment is less invasive, so healing is faster with fewer side-effects, causing less swelling and discomfort.
Fitting Your Mini Dental Implant Teeth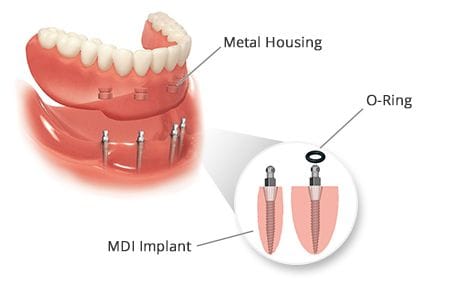 When mini dental implants are used to replace a small front tooth, we provide a temporary tooth that is purely for cosmetic purposes and cannot be used for biting food. The mini implant will need time to heal and bond with the bone around it, a process that normally takes three months or more. Once firmly fused in place, we fit a permanent implant crown onto the mini implant.
Mini implant dentures can usually be fitted soon after surgery, so your new prosthesis will be made before surgery begins.
Because multiple implants are placed, the mini implant denture splints the implants together, preventing any movement while the implants heal and fuse with your jawbone. The denture has special attachments on the fitting surface and which clip onto attachments on the dental implants called O-rings.
What to expect after Mini Dental Implant Surgery?
Because surgery is less invasive than traditional implant surgery, you should have fewer side-effects, and recovery should be faster. You are less likely to experience any swelling or discomfort, but we can advise you on using over-the-counter painkillers or can provide a prescription for pain relief if necessary.
We may advise you to take antibiotics after treatment, and you will most likely need an antimicrobial mouth rinse to help clean the area while it heals. We will provide specific instructions on how to look after your mini implants during healing and are always here to offer further advice and reassurance.
What Are the Advantages and Disadvantages of Mini Dental Implants?
Advantages include:
Treatment is less invasive and more affordable than traditional dental implant surgery.
Mini dental implants can secure partial and full dentures or restore small teeth.
The narrower screw size makes it easier to avoid sinus cavities and nerves and other essential structures.
Disadvantages include:
Mini dental implants need good vertical bone height and may be less suitable for restoring upper teeth where jawbone density is naturally lower.
A greater number of implants are required, and it can take between 10 and 12 to stabilize an upper denture.
The one-piece design of mini implants means the entire unit must be replaced if anything goes wrong, whereas separate components are replaceable with traditional implants.
Mini dental implants are a useful solution but are best for specific situations and are less suited for restoring upper teeth. Due to the number of mini implants needed for stability, conventional implant treatment could be a more cost-effective option. Like all implant treatment, min implants need meticulous oral care and maintenance to keep them strong, healthy, and free from infection.