Dr. Umanoff has assembled a phenomenal team of experts and caring, compassionate professionals to serve in his LuxDen Dental Center in Brooklyn, New York. From experienced dental assistants to a handpicked team of doctors, the LuxDen team is fully committed to providing you with an amazing dental experience.
Dental Hygienists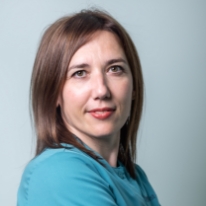 Nadiia - Dental Hygienist
Nadiia is a registered dental hygienist. She is originally from Ukraine where she completed her master's degree in accounting. Upon moving to the USA with her husband and son, Nadiia pursued a different path towards dentistry. She is truly proud of the work she does and believes that confidence starts with a smile. Outside of work, Nadiia enjoys gardening and growing a beautiful variety of flowers.
Veronica Vaysman - Dental Hygienist
Veronica has been a registered dental hygienist since 2010. Graduated from New York City Tech. Prior to that received her bechalors in Forensic Psychology from John Jay. She has been in the dental field since 2005 qne to this day enjoys every minute of her profession and making sure that every patient receives legendary service. Veronica is a proud mom of two kids who are her heart and soul. In her free time she loves making memories with her beautiful family.
Clinical Team
Valeriia Piroh - Doctor's Assistant
Valeriia is from Ukraine, she is a Doctor's assistant and enjoys comforting our patients and watching them leave our office with a confident smile. Valeriia loves working in the dental field and aspires to become a Dentist herself. Outside of work Lera loves shopping and spending time with her family.
Office Management
Liliia Getmanova - Front Desk Lead and Treatment Coordinator
Liliia was born in Russia and raised in Ukraine where she earned her philology degree. She made the big move to the USA three years ago where she followed her dreams to improve her life and explore the world. Liliia is passionate about helping people. She believes that everyone deserves something to smile about. In her free time, Liliia enjoys cooking exotic dishes and traveling to new places.
Katherine Yurevich - Scheduling Coordinator
Katya, born and raised in Brooklyn, NY is an important member of our team. She is passionate about getting to know all of our patients and making sure they receive quality service and attention. She likes talking to our happy patients and tries hard to make their dental experience as hassle-free as possible. Out of the office, Katya loves trying new foods, exploring new places and spending time with her two dogs.