Implant Supported Dentures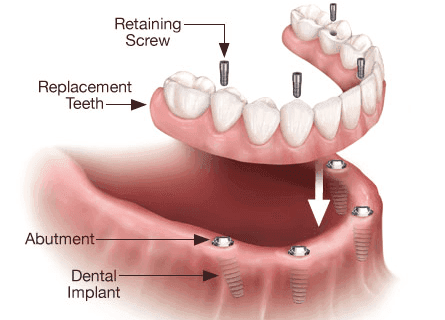 One extremely popular use for dental implants is to retain loose and ill-fitting dentures, holding them firmly in place so they cannot move. The denture has special attachments on its fitting surface, which is the surface closest to the gums, and these clip firmly to the dental implants either directly onto the implants or onto a bar that is attached to the dental implants.
It is a popular treatment in Brooklyn dental implant centers that has benefited many people, creating a secure foundation for those missing all their upper or lower teeth or who are entirely edentulous.
Once in place, the implant dentures can significantly improve the quality of life for people missing multiple teeth or all their teeth, and because treatment requires relatively few implants, it is usually quite affordable. Dental professional Dr. Umanoff is using the most advanced technology and a top quality medical grade titanium or titanium alloy for your new implants, the same materials used for other bone implants and for orthopedic joint replacements.
Why Choose Dental Implants?
Implant dentures are a cost-effective solution for providing basic stability to a denture. Often, the best teeth implants are situated towards the front of the mouth, maximizing the use of the jawbone, where it is naturally thicker and stronger. People receiving this treatment can often receive their implant dentures on the same day as treatment. Although you will still have a removable prosthesis, it is held firmly in place by dental implants and can significantly improve your ability to eat, speak, and talk comfortably and without embarrassment.
All too often, dentures become loose and uncomfortable after just a few years of use.
The bony ridge that used to support natural teeth gradually changes shape, losing height and width, decreasing denture retention. As the jawbone changes shape, the denture is more likely to move around uncomfortably while eating or when talking. It is a situation that can cause embarrassment and a loss of self-confidence and self-esteem. Some people with loose dentures will begin to avoid social situations actively and especially mealtimes, potentially becoming isolated and less able to enjoy life.
Who Is Suitable for Denture Implants?
Denture implants sometimes called an implant overdenture, are suitable for many people who may have lost teeth years ago and who have suffered significant jawbone loss. These people may need substantial bone grafting for other dental implant treatments, and which can increase the overall cost.
Other alternative to denture implant methods of replacing missing teeth are:
Overdentures are a more cost-effective choice providing greater stability and biting strength than an ordinary denture. Treatment is also worth considering for anybody facing the loss of their natural teeth and who doesn't want to wear ordinary dentures but would prefer a minimally invasive implant treatment requiring fewer dental implants.
Age isn't usually a factor for implant treatment, and an implant overdenture can be especially useful for older people and is a procedure that has helped people who are well into their retirement.
If you are considering dental implants for dentures, we must evaluate your general health and dental health very carefully. Our implant dentist Dr. Leonard Umanoff must ensure you do not have any existing health conditions or are taking any medications that could interfere with this treatment. During your initial consultation, Dr. Umanoff can discuss treatment more fully, to ensure this procedure is correct for your needs. He can provide an estimate of your overdenture cost, although we will provide a more accurate price once diagnostic tests are complete, and he has evaluated your dental health more fully.
The exact price will depend on the number of implants required and your final prosthesis as there are various options when choosing dentures and denture teeth. While a full denture is sometimes secured with as few as four dental implants, occasionally, it can be preferable to use a greater number and especially when restoring upper arches. If you decide to proceed after talking with Dr. Umanoff, we can arrange for your diagnostic tests.
Diagnostic Tests
A cone beam CT scan is essential before any form of implant treatment and is used during your computer guided implant surgery. We may also wish to take other dental x-rays and possibly impressions or photographs of your mouth to evaluate your dental health and to plan treatment more accurately. Our Cone Beam CT scanner takes detailed 3-D images of your jaws and is invaluable in planning implant surgery. It provides accurate details about the quality and quantity of bone available for implants and the position of nerves, blood vessels, and sinus cavities that must be avoided during treatment.
Planning Your Dental Implants for Dentures
Once we have collected all this information, Dr. Umanoff will plan every step of your treatment, including your new implant dentures.  He will decide the best location for each implant, ensuring we place it at the correct depth and angulation. The 3-D images are digitally manipulated using sophisticated software, showing how your implant dentures will look and function once treatment is complete. A surgical stent is created using this information and which is a sophisticated template for computer guided surgery.
Placing Your Dental Implants for Dentures
The surgical guide or stent eliminates error when placing your dental implants, accurately replicating your treatment plan while ensuring surgery is smoother and quicker. Because relatively few implants are needed, the actual surgery should be quite short and easy to tolerate.
Fitting Your Implant Overdenture
Depending on the exact treatment chosen, it may be possible to fit your implant overdenture soon after surgery. This is possible because the overdenture will splint the dental implants together, ensuring they cannot move while they fuse with the surrounding bone. In this case, the overdenture may be a temporary prosthesis that is replaced with your permanent implant overdenture once healing is complete. Sometimes, it's possible to adapt an existing denture for use during this period. After healing is complete, we replace your temporary prosthesis with a permanent overdenture.
What to Expect after Implant Treatment?
Some slight discomfort is possible but should be easily controllable with over-the-counter painkillers. Otherwise, we can supply you with a prescription for pain medication. We may also prescribe antibiotics to take while you heal, and you may need to use antimicrobial mouth rinse for the first week or so after surgery. It is important to keep your mouth clean, and we will provide precise instructions on how to care for your mouth and which foods to eat. Healing should be uneventful with few side-effects, but if you have any concerns or queries, we are always here to assist you.
What Are the Advantages and Disadvantages of Denture Implants?
Advantages of denture implants include:
An immediate improvement in the quality of life and the ability to eat more comfortably, which can boost self-confidence and self-esteem.
Discomfort after treatment is relatively minor as computerized surgery ensures treatment is quick and comfortable.
An overdenture can eliminate or reduce the need for bone grafting.
Treatment is tried and tested, producing success rates similar to conventional dental implant surgery.
Disadvantages of denture implants include:
Treatment may not be right for everybody, and you will need careful evaluation beforehand.
During healing, it's important to stick to a softer diet for the first 6 to 8 weeks after surgery. If you bite or chew harder foods, it could cause unwanted movement in your overdenture, negatively affecting implant healing.
An implant overdenture can be an excellent solution for somebody seeking an affordable dental implant treatment and who would love stable and secure teeth.
Although your biting strength will still be less than with natural teeth, it will be significantly better compared with a conventional denture that rests on the gums. Also, because implants support the overdenture, it's healthier for your gums and jawbone and can help to prevent further bone loss.