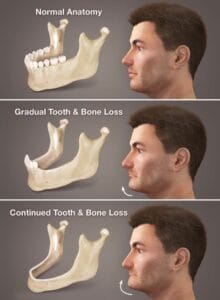 Solutions for Replacing Multiple Teeth in Brooklyn NY
When you lose multiple teeth, it is imperative to consider how to replace missing teeth, and before their loss can cause more lasting harm to your dental health. Also, replacing multiple missing teeth will make it considerably easier to eat and talk comfortably and without feeling embarrassed about your smile.
Options for multiple missing teeth in our dental implants center include:
Dr. Umanoff and the team of dental implant specialists in Brooklyn use only high quality medical grade titanium alloy dental implants. See the  difference between titanium and zirconia dental implants.
Removable Partial Denture
A removable partial denture is quick and cost-effective, and treatment is non-invasive, but it is the least desirable solution.
It consists of an acrylic gum-colored denture base that is frequently strengthened with a lightweight cobalt chrome metal base. Denture teeth are attached to the base, and these replacement teeth can be located in different areas of the mouth, as they don't need to be side-by-side as they would for a dental bridge.
Partial dentures are held in place by clasps fitted around existing natural teeth, but these clasps can put your natural teeth under strain, increasing the risk they will fail in the future.
Sometimes natural teeth are crowned and have a special fitting that allows the partial denture to attach to the crown, providing additional support. If you lose more natural teeth, we can sometimes add these to an existing partial denture.
A partial denture isn't particularly stable and won't provide any significant biting or chewing strength, so harder or crunchier foods might need to be avoided.
Long-Span Bridge
A long-span bridge is a reasonable solution for restoring missing teeth adjacent to each other. Modern materials and techniques can create a hardwearing and aesthetically pleasing bridge that looks and feels reasonably natural. However, the teeth on either side of the gap must be crowned as the crowns are attached to the replacement teeth or pontics.
These teeth must be strong and healthy enough to support the bridge, and because of the additional pressures placed on these crowns, there is a limit to the number of teeth that can be replaced using a long-span bridge.
Also, crowning healthy teeth increases the risk of infection and decay as the crowns begin to age and leak. Sometimes the natural teeth might not be strong enough to support a bridge or are missing entirely.
Multiple Teeth Implant Bridge
When existing teeth are not strong enough to support a bridge or are missing, one option is a multiple teeth implant bridge. Optimally placed dental implants can support an implant bridge without harming existing natural teeth. Instead, natural teeth are protected and preserved as there is no need to reshape them for crowns, and the bridge ensures they remain in the correct positions.

Because the bridge shares the stresses created during biting and chewing, there is less risk your natural teeth will chip or fracture. Relatively few dental implants are needed to support quite a large span of teeth, so treatment is relatively cost-effective.
Teeth in a Day
One major worry with multiple missing teeth is the time needed to replace them. Previously, dental implant treatment could take months to complete, but teeth in a day is an advanced procedure that will fix missing teeth in a single day. The implants are inserted into the jawbone and are immediately restored with a temporary bridge or crown. We make these temporary restorations before surgery, so they are ready to fit immediately.

Your implants will still need time to heal, which is why we use temporary prostheses and which are replaced with your permanent teeth once your implants fuse with your jawbone. Teeth in a day is a very popular solution for patients missing multiple teeth and who dread being without teeth for any length of time.
If you are wondering how to replace missing teeth, dental implants are the most advanced solution and can provide the best long-term treatment outcome.
Treatment preserves and protects remaining teeth and can provide the best aesthetic results but may not be the right solution for everyone.
When you visit Dr. Leonard Umanoff at LuxDen Dental Center, he can examine your mouth and review your dental and medical history. Based on this information, Brooklyn's best dental implant specialist Dr. Umanoff can discuss replacing missing teeth cost options to suit your budget and needs.