Dental implants Brooklyn specialist Dr. Umanoff is an internationally recognized, top-rated implant dentist. All dental implants procedures are performed in our Sheepshead Bay, Brooklyn NY LuxDen dental implants center.
Our Brooklyn implants center uses only the best quality dental implants from reputable companies. Dental implants can be made from titanium or zirconium. We use top quality medical grade titanium or titanium alloy, the same materials used for other bone implants and for orthopedic joint replacements.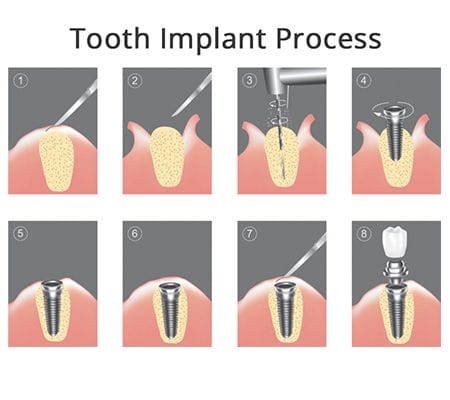 Usually, to have a dental implant planned, placed, and restored will require several visits to LuxDen Dental Center, and if you need additional treatments such as tooth removal or bone grafting, you might need at least another visit. However sometime it is possible to place bone grafting material at the same time as the dental implant, provided only a small amount of bone is required. Enjoy a new tooth without having to wait months.
Dental Implant Process
The dental implant process is as follows:
Initial consultation and diagnostic tests
Removing failing teeth, placing dental implants and fitting a temporary prosthesis
Preparing for and fabricating your permanent prosthesis
Fitting your permanent prosthesis

1st Visit: Initial Consultation and Diagnostic Tests
Your initial visit with Dr. Leonard Umanoff is an in-depth consultation to discuss your dental and medical history, and please make sure you have a list of all medications currently used. It is critical to make sure that any medications or existing health conditions will not interfere with the success of implant treatment. Also, we must ensure that implant treatment is suitable for your needs.
Our dental office is equipped with the most advanced diagnostic technology, ensuring you can receive all the tests you need under one roof.
A cone beam CT scan essential for any dental implant treatment and provides a detailed 3-D image of your jaws and any existing teeth. The CT scan shows the condition of your jawbone, allowing us to identify the quality and quantity of bone available for dental implant treatment and to assess if bone grafting is necessary.
The CT scan also shows the location of essential structures that must be avoided during implant surgery, including your sinus cavities, nerves, and blood vessels. We may well want to take a panoramic x-ray of your jaws, a 2-D image showing your entire jaw, and which is also very useful in planning treatment.
Once we have collected all the appropriate diagnostic information, you will receive a written treatment plan detailing possible options and the associated costs.
We discuss every solution in detail with you, and Dr. Umanoff is excellent at explaining complex procedures without using unnecessary terminology, and questions are always encouraged. We want to make sure you have all the information required so you can take control of your dental health and can make the most informed decision about your implant treatment.
Planning Your Treatment Behind-The-Scenes
After your initial visit and diagnostic tests, we analyze all the information gathered during the planning process. This process is carried out behind-the-scenes and allows Dr. Umanoff to plan exactly where each implant will be placed in your jawbone. We use sophisticated software to manipulate the diagnostic images and to ensure that once we restore your implants, they will look and feel as natural as possible, making it easy to eat, talk and smile comfortably and confidently.
Once your virtual treatment plan is complete, a surgical stent or template is fabricated to guide Dr. Umanoff during implant placement. The surgical stent ensures the treatment plan is accurately replicated, eliminating any errors in implant placement. At this stage, any temporary prosthesis is also fabricated and will be ready to be fitted soon after placing your implants.
2nd Visit: Removing Failing Teeth, Placing Dental Implants and Fitting Your Temporary Prosthesis
Removing Failing Teeth
If you need teeth removing before implant placement, we will make sure they are extracted as carefully and as gently as possible to preserve the empty tooth socket. Sometimes we will place a small amount of bone grafting material in the empty socket and before inserting your dental implant. We may recommend leaving the empty socket to heal before placing your implant, or often the implant can be inserted during the same appointment.
Placing Dental Implants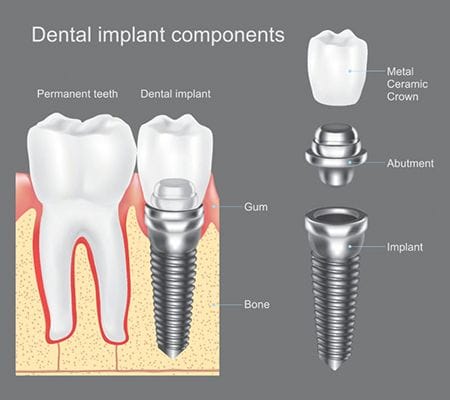 Dr. Umanoff is an extremely experienced and very gentle dental implant dentist, so you are in good hands, and we take enormous care to make sure you feel as comfortable as possible during this process. Using computer guided surgery helps to make sure implant placement is quicker and smoother and more comfortable for you.
The surgical stent is placed over your gums, pinpointing the exact location for each implant, so it's not necessary to make a big incision in your gums. The site is prepared using a dental laser, reducing unwanted side-effects like bleeding and swelling. Once the jawbone is ready for the implants, they are inserted and tightened in place using specialized tools.
A single dental implant typically takes less than an hour to place.
Fitting Your Temporary Prosthesis
Once your implants are in place, your temporary prosthesis is fitted, immediately restoring your ability to talk and smile with confidence. We do take a lot of care when fabricating temporary prostheses, but it's important to remember that your permanent teeth will look and feel even better. You will use the temporary prosthesis until your implants have fused (osseointegrated) with your jawbone.
Afterward, we most likely won't need to see you until you come back for your permanent teeth, but of course, if you have any questions or queries, we are here to assist you during the healing period.
3rd Visit: Fitting Your Permanent Teeth
Your third visit should be fairly quick and is merely to remove your temporary prosthesis and check your implants have fully integrated with your jawbone and to take detailed dental impressions. You won't require any anesthetic, as taking an impression is entirely painless. Once we have your impression, we replace your temporary prosthesis for the last time. We use the dental impression to create your permanent teeth, utilizing the most advanced and most natural-looking dental materials, ensuring you receive a high-quality and beautiful restoration.
Once your teeth are ready, we will take out your temporary teeth and fit your new prosthesis, adjusting it as necessary, and making sure it is perfect and that you feel happy with its appearance and that it feels comfortable.
A new implant porcelain crown or bridge is cemented or screwed onto dental implants. A screw-retained restoration is sometimes more preferable as we can easily retrieve it for maintenance and cleaning. The screw holes are covered with tooth-colored composite resin and are invisible. If you are receiving a removable implant supported denture, we will make sure you feel entirely comfortable with the technique for inserting and removing it for cleaning.
We spend with each patient showing them how to look after their dental implants as it is essential to clean them thoroughly to prevent implant problems. There is no need to worry as caring for implant teeth is straightforward, and we take enormous pride in our hygiene education. All that remains now is for you to enjoy your new implant teeth.
LuxDen dentistry is among the top dental implant centers in Brooklyn NY. We offer the latest products and employ the newest techniques in dental implantology and prosthetics.