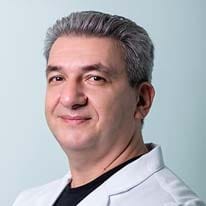 I Treat My Patients Like I Treat My Family

Dr. Leonard Umanoff is a top-rated, best-in-class dental implants specialist in Sheepshead Bay, Brooklyn NY. He is experienced and well-trained in implant dentistry. He offers the most advanced implants techniques and procedures.
Dr. Leonard Umanoff is passionate about implant dentistry. He chooses the appropriate new teeth for your needs and desires.
Visit Brooklyn Dental Implants Center for an honest and professional opinion about your dental health. Dr. Umanoff will only suggest dental implants if he believes they will provide optimal results.
Education
Dr. Umanoff graduated from Moscow State University of Medicine and Dentistry in 1995. He continued his education and graduated from NYU College of Dentistry in 1999. He is a well-qualified implant specialist with degrees from two countries.
Since graduating, Dr. Umanoff has spent the past twenty years expanding his knowledge. He spends his time attending continuing education courses in implantology.
Dr. Umanoff is on the North East Regional Board of Dental Examiners.
Extensive Training
Dr. Umanoff is a member of the International Congress of Oral Implantologists (ICOL) since 2009. The ICOL provides extensive education in dental implantology to its members. ICOL is a renowned worldwide association of top dentists.
Dr. Umanoff has received advanced training at the renowned Pikos Implant Institute in Florida. Pikos specializes in 3D-based surgical implant courses, computer-guided dental implant surgery, and advanced bone and gum grafting techniques. He is a member of the prestigious American Academy of Implant Prosthodontics (AAIP). Many implant organizations worldwide are affiliated with the AAIP.
When you visit Dr. Leonard Umanoff, you will receive an honest opinion about your treatment options. Dr. Umanoff's specialized knowledge allows him to make an in-depth review as to your suitability for the procedure. He will only suggest implant solutions if he is confident they will provide optimal results.
While his education and experience speak volumes for the success he's had as a dentist, when you meet Dr. Umanoff you'll not soon forget his thoughtful, jovial, and professional manner. Dr. Umanoff has dedicated his life to treating the whole patient, not simply the problem or condition that brought them to the office that day.
Dr. Umanoff has created an environment within the LuxDen dental center that allows him to create larger periods to spend one-on-one with his patients so that he can really get to the heart of what's going on with their dental health and he takes time to get to know each patient so that he can truly help and support them on their journey to better oral health.