Brooklyn implant specialist Dr. Umanoff is an internationally recognized dental specialist and one of the best implantologists in New York. All the procedures are performed in our Sheepshead Bay, Brooklyn, NY LuxDen Dental Implants Center.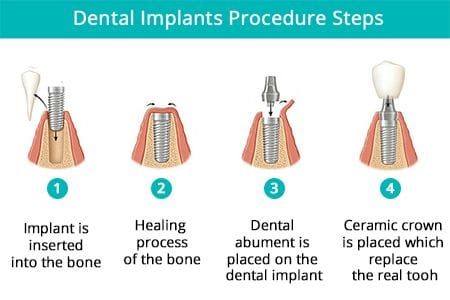 A dental implant artificially restores a missing tooth, including its root. It is a small post or screw that is surgically inserted into the jawbone during a short procedure. Read more about the components of dental implants.
The implant post is made from medical-grade titanium or can be metal-free and made from a strong ceramic material called zirconia. The dental implant procedure consists of four steps outlined in the picture on the right.
Osseointegration
Once in the jawbone, the implant post undergoes a process called osseointegration, where it fuses or bonds with the bone around it, creating a stable, strong anchorage point for a replacement prosthesis.
Components of Dental Implant
A standard dental implant has three separate components, which are:
Post that is surgically inserted
Abutment which a connector attached to the post
Prosthesis that replaces one or more teeth.
Once firmly in place, an implant can support a dental crown, while multiple implants, even front tooth implants can support larger prostheses, including bridges and dentures.
What is the Function of a Dental Implant?
A dental implant is designed to function in much the same way as a real tooth root, providing excellent support and stability for replacing missing teeth. Dental implants can help people missing just single teeth, or who have lost multiple teeth. A single tooth restored with an implant can look aesthetically pleasing, emerging from the gums in a way that is exactly like a real tooth.
Multiple implants can support a dental bridge when the missing teeth were originally adjacent to each other. It is quite cost-effective as not every tooth must be replaced with an implant.
Dr. Umanoff can restore missing teeth without negatively affecting natural teeth, as there is no need to reshape these teeth for crowns that would ordinarily support a dental bridge. Instead, natural teeth are protected and preserved.
Treatment is particularly useful for people who are edentulous, meaning they are missing all of their natural teeth. Relatively few implants can support an entire arch of teeth in the form of a fixed bridge that remains permanently in the mouth, or a removable denture that clips firmly onto the implants.
In the past, patients only had the choice of dental bridges where natural teeth are substantially reshaped for support, or dentures that rest directly on the gums and which cannot provide the same strength and functionality given by a dental implant.
Artificially restoring a tooth root will provide you with a replacement tooth that looks and feels natural, so you can chew food and talk with complete confidence in its stability and appearance.