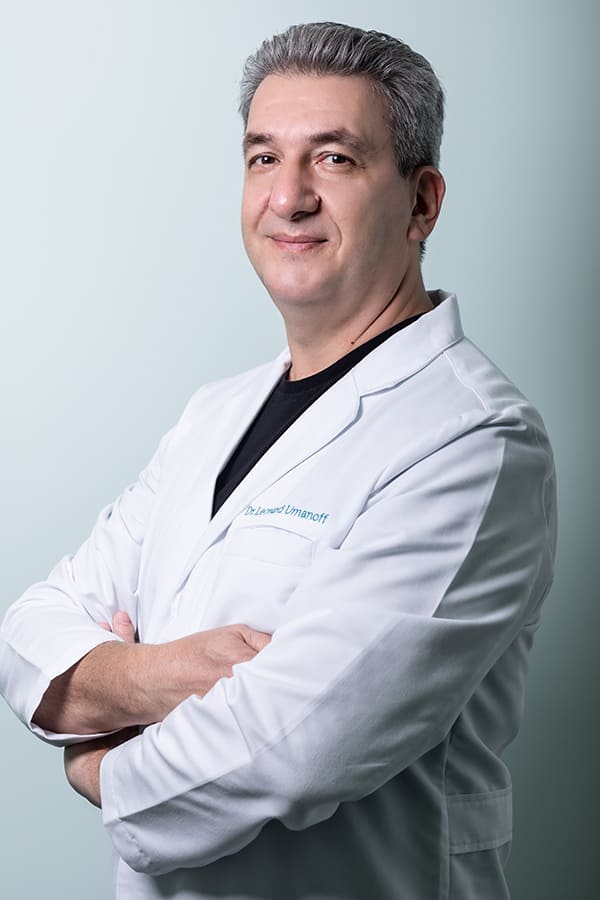 Dr. Leonard Umanoff
Doctor of Dental Surgery, DDS
With over 20 years of dental experience and degrees from two countries, Dr. Umanoff and his team have helped over thousands of patients. Compassionate and understanding care takes center stage for the doctor and his colleagues as their approach is very simple; treating the whole patient not just their teeth! Using cutting edge techniques and their signature patient care, you can be confident and assured that your smile is in extremely capable hands!
Dr. Umanoff's passion and specialization is Implantology. This amazing procedure can restore a single tooth or even a full mouth in a short period of time. The leading implant dentist in Brooklyn Dr. Umanoff has extensive knowledge of placing dental implants and has performed over 6000 such procedures. It fact it remains his favorite procedure to perform for his patients!
Dr. Umanoff has perfected his craft of implantology and not only focuses on the placement of implants but everything involved in the process such as bone grafts, sinus lift, and final restorations. Through his vast knowledge and experience there is no one better to help you obtain the smile you always wanted.
In his free time Dr. Umanoff enjoys being outdoors and enjoying nature, reading, practicing yoga and kickboxing.
Education
• Moscow State University of Medicine and Dentistry – 1995
• NYU College of Dentistry – 1999
• Second District Dental Society Member
• North East Regional Board of Dental Examiners
• ICOI – International Congress of Oral Implantologists member since 2009
• Zoom! Whitening System Certified
• American Academy of Implant Prosthodontics Member
• Pikos Implant Institute – 2012
• Master CEREC System Technician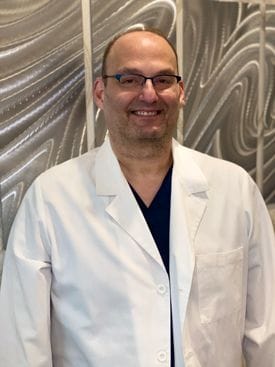 Dr. Marc Adelstein
Endodontist
Dr. Marc Adelstein, born and raised in Bensonhurst has been practicing Endodontics for over 30 years. He is a graduate of NYU College of Dentistry, where he also completed his training and residency for his specialty in endodontics.
Dr. Marc Adelstein is a member of the American Dental Association and the American Association of Endodontics. He has previously worked at three private office practices as the chief endodontist.
Outside of work, Dr.Marc Adelstien resides in Bronx, New York with his two daughters. He is an avid sports fan and enjoys following the New York Jets and Mets teams. Some of his other hobbies include listening to Rock and Roll music and spending time with his family.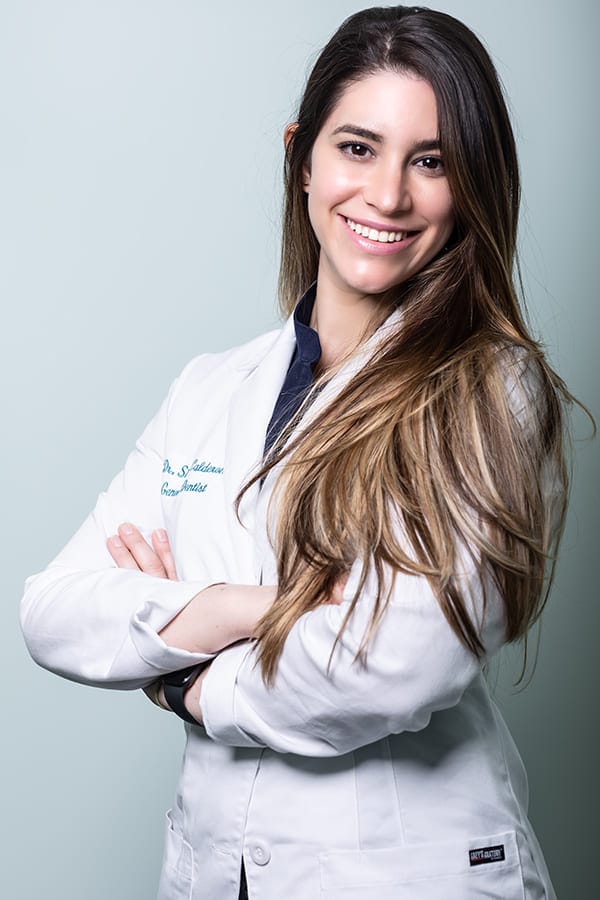 Dr. Silvia Calderon
Cosmetic Dentist
Dr. Silvia Calderon is a general and cosmetic dentist providing people of all ages with the care and services they need to enjoy a lifetime of healthy teeth and gums. Born and raised in Miami, Florida, she earned her Bachelor's degree from Florida International University before moving to New York City to pursue a career in dentistry.
Dr. Silvia received her Doctorate of Dental Surgery from New York University College of Dentistry, and went on to complete a General Practice Residency at NYU Langone Brooklyn Hospital (formerly known as Lutheran Hospital), a level one trauma center in Brooklyn.
Dr. Silvia, Cosmetic Dentist is also Invisalign certified, and bilingual – speaking English and Spanish fluently. Affiliations include the New York State Dental Society, and Second District Dental Society.
Dr. Silvia always takes a very personal and caring approach to her patients. Her warmth and gentleness help put patients at ease, and make each dental experience a pleasant one. She strives to create the most comfortable atmosphere possible, listens to the needs of her patients, and explains all treatments and procedures clearly.
Dr. Silvia strives for excellence and provides ultimate attention to detail in all of the services she provides, with a focus on cosmetic dentistry, prosthodontics, and dental anxiety management.
She is committed to providing the highest standard of care for her patients and enjoys advancing her skills with continuous education.
When she is not in practice, Dr. Silvia enjoys kickboxing, traveling, enjoying new cuisines, and exploring New York City.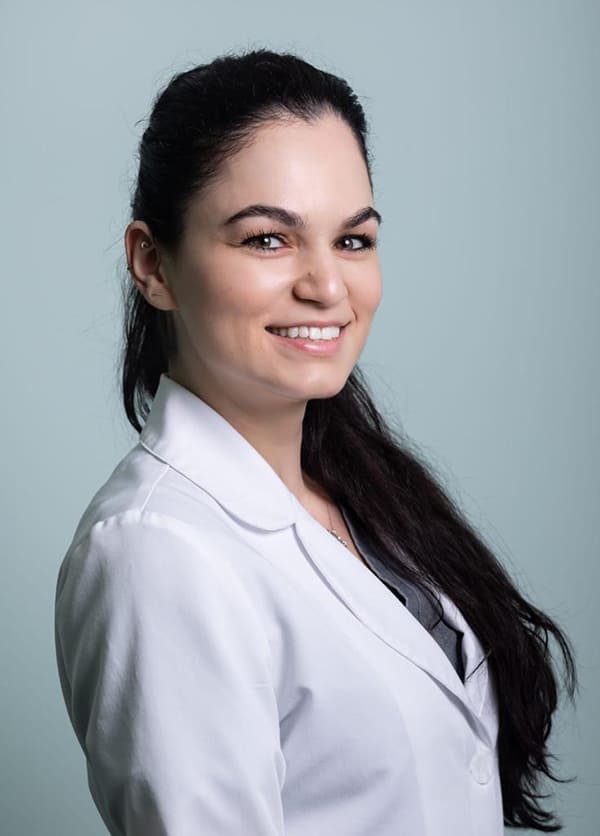 Dr. Angelina Fayleyb
Cosmetic Dentist
Dr. Angelina Fayleyb, DDS is a dedicated dental professional that aspires to create trust and confidence by delivering exceptional care to her patients. Practicing dentistry is her true passion and she sees it as an opportunity to contribute to the health and quality of life for all of her patients and the community as a whole.
She believes that oral health does not have to be intimidating or complicated. Dr. Fayleyb establishes a personal relationship with her patients so they get the best of care, based on their individual needs.
Born in Uzbekistan and raised in New York, Dr. Fayleyb is proud to have graduated with honors from New York University and New York University College of Dentistry.
She sees patients of all ages – from little kids to grandparents – for all aspects of general and cosmetic dentistry, including root canals, tooth decay, aesthetics, dental surgeries, fixed and removable prosthodontics.
Dr. Fayleyb loves building lifelong relationships with her patients and works with them in providing optimal long-term care.
Fluent in English, Russian and Spanish, she is a gentle practitioner, dedicated to making sure that her patients visits are as comfortable and enjoyable as possible.
When she is not in the office, Dr. Fayleyb enjoys doing yoga, amigurumi, reading and spending time with her friends and family. She also makes time to participate in community activities including outreaches and mentoring. It's her mission to help you and your family to maintain healthy, beautiful smiles for a lifetime.