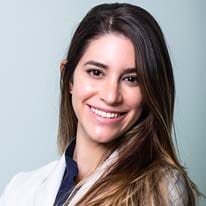 Cosmetic Dentist
Dr. Silvia Calderon is a general and cosmetic dentist providing people of all ages with the care and services they need to enjoy a lifetime of healthy teeth and gums. Born and raised in Miami, Florida, she earned her Bachelor's degree from Florida International University before moving to New York City to pursue a career in dentistry.
Dr. Silvia received her Doctorate of Dental Surgery from New York University College of Dentistry, and went on to complete a General Practice Residency at NYU Langone Brooklyn Hospital (formerly known as Lutheran Hospital), a level one trauma center in Brooklyn.
Dr. Silvia, Cosmetic Dentist is also Invisalign certified, and bilingual – speaking English and Spanish fluently. Affiliations include the New York State Dental Society, and Second District Dental Society.
Dr. Silvia always takes a very personal and caring approach to her patients. Her warmth and gentleness help put patients at ease, and make each dental experience a pleasant one. She strives to create the most comfortable atmosphere possible, listens to the needs of her patients, and explains all treatments and procedures clearly.
Dr. Silvia strives for excellence and provides ultimate attention to detail in all of the services she provides, with a focus on cosmetic dentistry, prosthodontics, and dental anxiety management.
She is committed to providing the highest standard of care for her patients and enjoys advancing her skills with continuous education.
When she is not in practice, Dr. Silvia enjoys kickboxing, traveling, enjoying new cuisines, and exploring New York City.