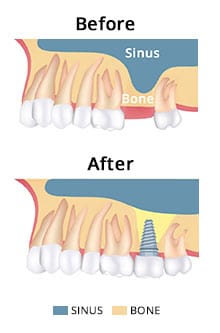 When you have missing or damaged teeth that need repair or replacement in the upper jaw area, your dentist may find that there's not enough bone in your jaw to support the implants or other work you need.
If this is the case, you may need a hydraulic sinus lift to create a new framework for your upper teeth. This procedure must be done by someone who is specially trained.
The LuxDen Dental Center of Brooklyn, New York and its top rated dental specialist in Brooklyn counts with the latest equipment and the experience necessary to perform a sinus lift procedure that will allow your upper jaw to support needed implants.
The Sinus Lift Procedure
Sometimes, as people age, they lose bone in the jaw area. As a result, the sinuses are too close to the upper jaw for dental implants to be placed. The sinus lift procedure is a dental surgery that adds bone to your upper jaw, in the area of the molars and premolars.
Going into specifics, in the sinus lift procedure, the maxillary sinus membrane is moved upward, or "lifted." Then, the bone grafting material is packed into the space once occupied by the sinuses. Once the bone is placed, the area is closed with stitches and will take several months to heal, depending upon how much bone was added.
Before the procedure, you will get x-rays to determine where the bone needs to be added. Afterward, you'll follow up with our dental professionals in Brooklyn, NY to make sure everything is healing as it should.
The LuxDen Dental Center of Brooklyn, New York will support you every step of the way until your implants can be placed to create your new smile.
Call to Schedule an Appointment with a Hydraulic Sinus Lift Dental Surgeon in Brooklyn, New York Today
If you have damaged teeth in the upper jaw, schedule an appointment with a hydraulic sinus lift dental surgeon in Brooklyn, New York today. The experts at the LuxDen dental practice are happy to answer any questions you may have about the sinus lift procedure.  Call us at (718) 382-3444 and learn more about how this modern procedure may help you.