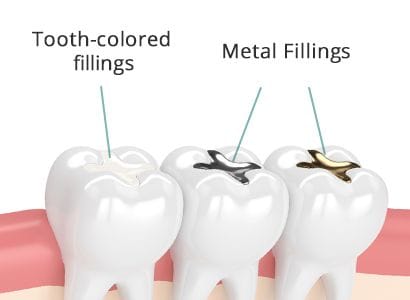 Tooth-colored fillings are an excellent option for patients that want a filling that matches the color of their teeth. At LuxDen dental practice in Brooklyn, we understand that you want a brighter and whiter smile and tooth-colored fillings help you to achieve that.
As such, we offer these fillings to patients of all ages. Our Brooklyn, NY dentist also provides comprehensive dental examinations and cleanings that determine which teeth are the best candidates for this type of filling.
How Do These Fillings Work?
Dental fillings are used to build up a tooth with decay. Tooth-colored fillings, or composite resins, provide a secure structure for teeth with small to medium-sized fillings. They can be used throughout a patient's mouth and are great for those that want a natural look that silver or amalgam fillings don't provide. Tooth-colored also use healthier materials, are more pleasing to the eye, and are nearly undetectable in the mouth.
How Fillings Are Performed
The process of placing a tooth-colored filling takes longer than that of amalgam one. This is because the filling type must be kept both dry and clean during the process. Afterwards, it is important that the filled tooth is brushed and flossed regularly to ensure its health.
Tooth-colored fillings are also used in composite restorations, where decayed, broken, or worn teeth are repaired. This is because this filling material thoroughly seals spaces. After removing the tooth decay and preparing the tooth, the restoration occurs layer by layer using a LED light that bonds the material.
Schedule an Appointment with a Brooklyn NY Cosmetic Dentist Today
To learn more about tooth-colored fillings in Brooklyn and schedule an appointment, call our experienced dentist at LuxDen Dental Center at (718) 382-3444 today.