Tooth sensitivity is due to dentin exposure caused by receding gums or loss of enamel. Dentin is the part of the tooth which covers the nerve. The dentin itself contains many pores that run from the outside of the tooth to the center of the nerve. Temperature changes or different foods can cause exposed teeth to hurt or ache. However, the best way to find out why a tooth is sensitive is to have one of our general dentists at LuxDen Brooklyn dental implants practice examine you.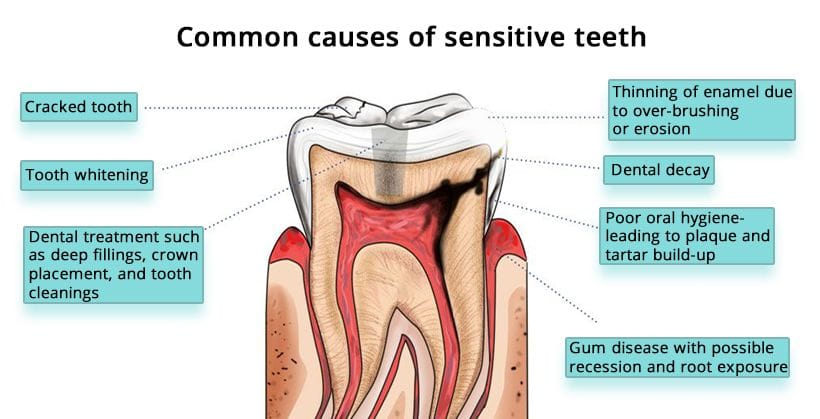 What We Can Do for You
At LuxDen Dental Center, our New York dentist will look for dentin exposure signs and run different tests to determine what the cause of the sensitivity is. This may be gum disease or a cavity, sometimes even erosion or abrasion that causes the roots to be exposed. With a tooth sensitivity treatment, a restoration can be placed. For gum disease, we can perform a thorough cleaning and regular scalings, three to four times each year.
When it comes to tooth sensitivity treatment, a fluoride varnish can be applied to the exposed areas, which will strengthen the tooth. Fluoride is placed into a mouth tray that sits in the mouth for up to five minutes, strengthening many teeth at once. At home, you can use toothpaste that is made to soothe the nerve endings of the teeth. It is also important to use a soft bristle toothbrush that doesn't overstimulate the area.
Call to Schedule an Appointment for Tooth Sensitivity Treatment
If you're looking for tooth sensitivity treatment options, call our Brooklyn dental office, LuxDen Dental Center. To schedule an appointment and speak to our experienced dentist in Brooklyn, call us at (718) 382-3444 today.