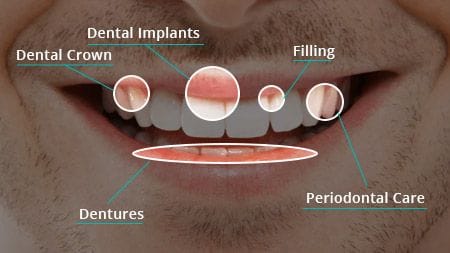 The mouth is a complex structure in which the jaws, muscles, teeth, and bones all work together to make chewing comfortable.
When something is out of balance in the mouth, many issues can occur including headaches, cracked teeth, and impaired ability to chew. When this develops, full mouth reconstruction treatment may be an excellent option.
LuxDen dental office of Brooklyn, New York offers this type of treatment and will be glad to answer any questions you may have.
Reconstructive Dentistry
When a patient has a variety of dental work done over time, perhaps by many different dentists, fillings can deteriorate, and dental crowns may need replacing. The bite can be out of balance, and infections can develop, along with decay.
When it makes no sense to fix the issues one by one, reconstructive dentistry may be the answer instead.
In reconstructive dentistry, all the old dental work is removed and replaced with new work that is designed to create a balanced and consistent bite, clearing out any infected material. Since people are living longer than ever, planning for your dental health now can ensure healthy, problem-free teeth for years to come.
Smile Makeover
As we age, our teeth may deteriorate, detracting from our appearance, comfort, and dental health. When this becomes a problem, a smile makeover may be the answer. A smile makeover is a series of dental cosmetic procedures that are designed to improve the appearance of your smile. Discolored teeth can be whitened, and cracked or chipped teeth can be bonded with veneers to make them look whole again. Misaligned teeth can also be improved.
LuxDen Dental Center of Brooklyn, New York can give you many options for a much happier smile.
Call to Schedule an Appointment with a Full Mouth Reconstruction Dentist in Brooklyn, New York Today
If you have multiple dental problems you'd like to solve, call to schedule an appointment with a full mouth reconstruction dentist in Brooklyn, New York today. LuxDen Dental Center of Brooklyn, New York is a full-service dental and periodontic office that is eager to serve you. Call us at 718-382-3444 and let us brighten your smile.