The mouth is a complex structure in which the jaws, muscles, teeth, and bones all work together to make chewing comfortable. When something is out of balance in the mouth, many issues can occur including headaches, cracked teeth, and impaired ability to chew. When this develops, full mouth reconstruction treatment may be an excellent option. LuxDen dental office offers this type of treatment and will be glad to answer any questions you may have.
What is Full Mouth Reconstruction?
Full mouth reconstruction is a procedure that is aimed at rebuilding, repairing, or replacing most or all of the teeth in the upper and lower jaws. This procedure combines aesthetics and restorative dentistry to improve the health, function, and appearance of your teeth.
What Problems Can Full Mouth Reconstruction Treat?
Full mouth reconstruction restores mainly oral function. It is a treatment option for people who suffer from the following conditions:
Missing teeth;
Bruxism (teeth grinding);
Cavities;
Tooth fractures;
Chipper teeth;
Enamel erosion;
Gum disease;
TMJ disorders.
The restoration of severely damaged teeth is possible with a full mouth reconstruction.
What Are Full Mouth Reconstruction Procedures?
Treatments for full mouth reconstruction target your individual oral health issues. Bridges, crowns, dental implants, dentures, and veneers are all common mouth restoration options. Orthodontists use a variety of techniques to improve your dental function. Other options include: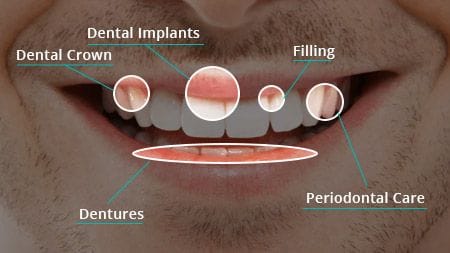 Root canal treatment
Gum tissue reshaping
TMJ (temporomandibular joint) disease treatment
Jaw surgery
Bone and/or gum grafting
How Long Does Full Mouth Reconstruction Take?
The process of reconstruction normally takes months or even years to complete. The duration of the process of therapy is determined by the procedures and therapies performed. The requirements of one patient may differ from those of another. It's tough to predict how long a full mouth reconstruction will take for each person. There are certain factors that influence these time estimates.
The length of the procedure will be determined by the severity of the patient's problem. The dentist will also take into account the person's overall health and any recent treatments. The length of reconstruction also depends on the type of dental procedure.
How Much Does Full Mouth Reconstruction Cost?
The cost of a whole mouth reconstruction is determined by the procedures conducted, the dental materials and techniques employed, the usage of sedation dentistry techniques, and other criteria. Full mouth reconstruction is not a cheap procedure, but it may considerably enhance your oral health, which in turn can help safeguard your general health. If you have dental insurance, at least part of the treatments will almost certainly be covered. Otherwise, many dentists provide in-house financing or special offers on procedures you want or need.
If you have multiple dental problems you'd like to solve, call to schedule an appointment with a full mouth reconstruction dentist in Brooklyn, New York today. LuxDen Dental Center of Brooklyn, New York is a full-service dental and periodontic office that is eager to serve you. Call us at 718-382-3444 and let us brighten your smile.